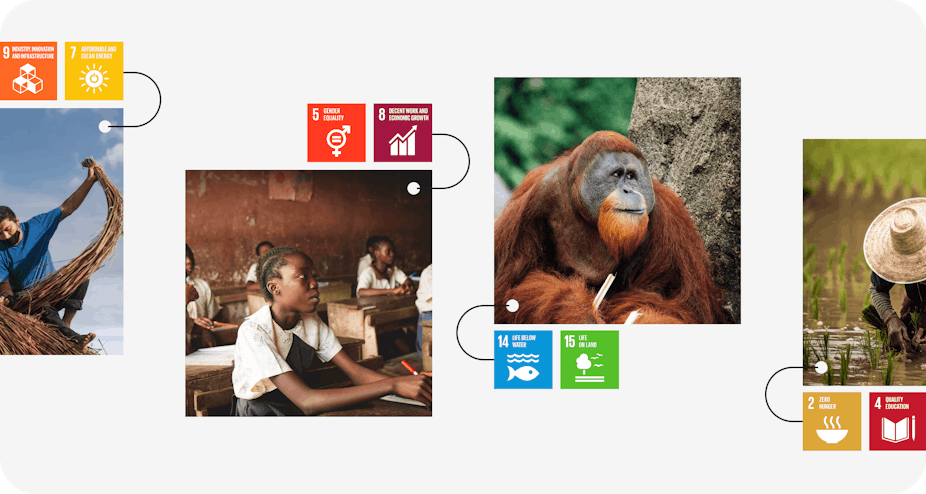 Rising sea levels. Ocean acidification. Species extinction. Food insecurity. Unemployment.
They're all issues we're facing right now. And their causes are all deeply intertwined – which is why the Sustainable Development Goals are so important.
The ocean is warming and ice masses are melting due to global warming, leading to rising sea levels. The increase in CO2 in the atmosphere is causing the ocean to become more acidic. These changes are endangering the marine species that call the ocean home: corals, fish, shellfish, and more. Coastal communities that rely on marine life for sustenance and livelihood face growing food security and unemployment, whilst also dealing with the threat of losing their homes to rising water.
That's just a basic example – there's a whole web of connections between the issues affecting our environmental, social, and ecological systems.
Intertwined issues need intertwined solutions, which is why it's crucial that our climate solutions also address broader societal and ecological issues.
The Sustainable Development Goals offer a framework for taking action on all of the key issues we're facing, and the co-benefits included in high-quality carbon offset projects offer a way for businesses to contribute meaningfully to these Goals.
How? Well, let's explore.
What are the Sustainable Development Goals and why are they important?
The Sustainable Development Goals (SDGs) came into being back in 2015.
Drawing on the history of sustainable development work, the UN undertook its largest ever participatory process to find the highest priority goals for global sustainable development between 2015 and 2030. 17 Sustainable Development Goals were determined within the 2030 Agenda for Sustainable Development, which was officially adopted by the UN member states at the 2015 United Nations General Assembly – a global partnership aiming to create a better and more sustainable future for all life on earth.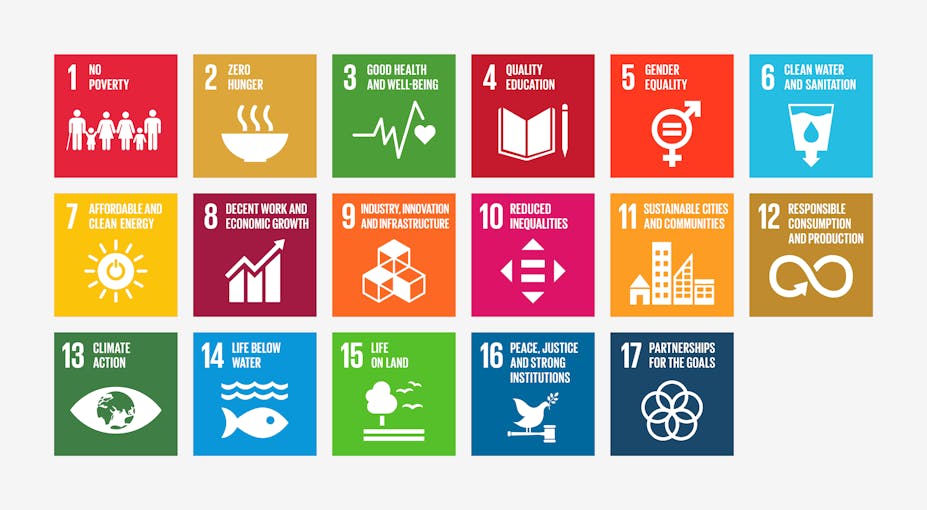 As you can see, some of the goals are explicitly related to environmental health and combatting climate change – 7. Affordable and Clean Energy, 11. Sustainable Cities and Communities, 12. Responsible Consumption and Production, 13. Climate Action.
"We are determined to protect the planet from degradation, including through sustainable consumption and production, sustainably managing its natural resources and taking urgent action on climate change, so that it can support the needs of the present and future generations."
Meanwhile, other goals focus on other urgent societal issues. But, the ties between all of the goals are always made clear.
An example. Goal 2 is Zero Hunger, aiming to eliminate the hunger which 1 in 10 people worldwide are suffering from. This issue focuses on poverty and nutritional health. But, action towards the Goal also recognises the need for food waste to be eradicated and agricultural practices to be strengthened and sustainable – including factors such as the health of our soil and managing water scarcity in times of drought, which are closely connected to action on climate change.
"Ending poverty and other deprivations must go hand-in-hand with strategies that improve health and education, reduce inequality, and spur economic growth – all while tackling climate change and working to preserve our oceans and forests."
The causes of the urgent issues facing us are all connected and intertwined. And so are the solutions to these issues – we need solutions that address all issues, rather than working in silos on particular problems. The Sustainable Development Goals offer a clear framework for doing exactly this.
What role do businesses play in contributing to the Sustainable Development Goals?
The 2022 Sustainable Development Goals report isn't an easy read.
Progress on the SDGs has been stunted (in some cases even reversed) by factors including the Covid-19 pandemic and the war in Ukraine – vast amounts of disaster-related deaths, people unexpectedly pushed into unemployment and poverty, food shortages, a record-breaking number of refugees, rising global temperatures continuing unabated.
It's more important than ever that we continue to work together towards the Goals.
And that needs to include businesses.
Achieving some of the goals explicitly needs the involvement of businesses – 8. Decent Work and Economic Growth, 9 Industry, Innovation, and Infrastructure. But beyond that, businesses have huge influence in society and on individual lives, and hold the ability to lead the way on making progress on all of these important issues – promoting responsible consumption of products and services, reducing inequality of opportunity, and so on.
Business for 2030 is the official platform for corporate contribution to the Sustainable Development Goals, and the Business for 2030 blog contains examples of actions companies are taking towards sustainable business. There are also tools and guidance for businesses via UN Global Compact and the SDG Compass.
Another way that businesses can contribute towards progress on the Sustainable Development Goals is through their business carbon offsetting.
Here's how.
How can business offsetting contribute to the Sustainable Development Goals?
Done right, carbon offsetting can be a powerful tool for supporting progress towards the Sustainable Development Goals.
The one catch? Quality.
Quality must be your number 1 focus when deciding which carbon offsets to buy.
Whilst carbon offset projects look to provide carbon benefit first (either avoiding further emissions or removing existing carbon from the atmosphere), high-quality offsets are designed to also have additional co-benefits that ripple out beyond carbon to address broader environmental and social issues – those issues that the Sustainable Development Goals are also designed to address.
High-quality projects will have done full lifecycle assessments as part of their design and development to:
Ensure that the project doesn't inadvertently cause any harm to the local people and environment within the project's area
Identify ways in which the project can provide additional benefits to people and the environment, on top of the primary carbon benefit being created.
On the other hand, low-quality offset projects rarely take these co-benefits into account. Best case scenario: they make no contribution towards the bigger picture of creating a better and more sustainable future. Worst case scenario: through a lack of consideration, they actually make the situation worse.
Not sure how to identify high-quality offsets? Head to our blog on the topic: what are high-quality offsets?
Often these co-benefits are even specifically designed to conform with the Sustainable Development Goals. Many of the carbon standards (Gold Standard, Verra, Puro.Earth etc) that check, verify, and certify carbon projects using the SDGs within their submission guidelines – ensuring that project developers have considered how their project can contribute to these wider societal issues.
As an example, let's take a look at the Verifed Carbon Standard by Verra.

How Verra includes contributions to the Sustainable Development Goals in their carbon standard
To be accepted by Verra for verification, project developers must adhere to the rules and requirements for the Verified Carbon Standard. These cover lots of elements that contribute to a project's quality and integrity – calculating a baseline, processes for ongoing monitoring, determining the risk of non-permanence etc.
And Section 3.16 of the rules and requirements is 'Sustainable Development Contributions':
"The project proponent shall demonstrate how the project activities, or additional activities implemented by the project proponent, contribute to sustainable development, as defined by and tracked against the United Nations Sustainable Development Goals (SDGs). The project proponent must demonstrate that a project contributes to at least three SDGs by the end of the first monitoring period, and in each subsequent monitoring period."
So, all carbon offset projects verified under Verra's Verified Carbon Standard are required to demonstrate how they are contributing to at least 3 of the SDGs.
That means as a carbon buyer, you can be confident that buying carbon credits from projects certified by Verra will make tangible contributions towards the SDGs.
But, if you want to find the specifics on how an individual project contributes, it can be a little difficult.
Let's look at the Concosta forest conservation project in Colombia, for example.
In Verra's registry page for Concosta you'll find a bunch of documents relating to the project design, the Verra verification process, and ongoing monitoring reports. Information on the project's contribution to the SDGs will be within those documents somewhere, but they aren't immediately visible, and there's no easy way to search for them.
And what about carbon offset projects that aren't certified?
Not all high-quality carbon offset projects are certified by standards like Verra.
When a project's technique is new and innovative, there won't be an existing standard for that particular project type: the methodology is still in the process of being designed and developed, so it isn't able to go through the verification process. One example is UNDO's enhanced rock weathering project – high-quality, but not yet certified.
So, whilst looking at SDGs within the certification process is useful for established project types, this isn't possible for all the carbon offset projects you'll come across.
Some of these projects may have information available on their websites about their co-benefits and contribution to the SDGs, but not all – you're likely to need to go digging around and asking for more information.
Overall, it's not always quick and easy to see how carbon offset projects contribute to the Sustainable Development Goals.
Making Sustainable Development Goals visible to carbon buyers
We're changing that.
Sustainable Development Goals are included on the project page for every project listed in the Lune dashboard – clearly highlighting those co-benefits of carbon offset projects, and how they're contributing to the SDGs.
For instance, let's take a look at the Concosta forest conservation project (sign up or log in to the Lune dashboard to view in full).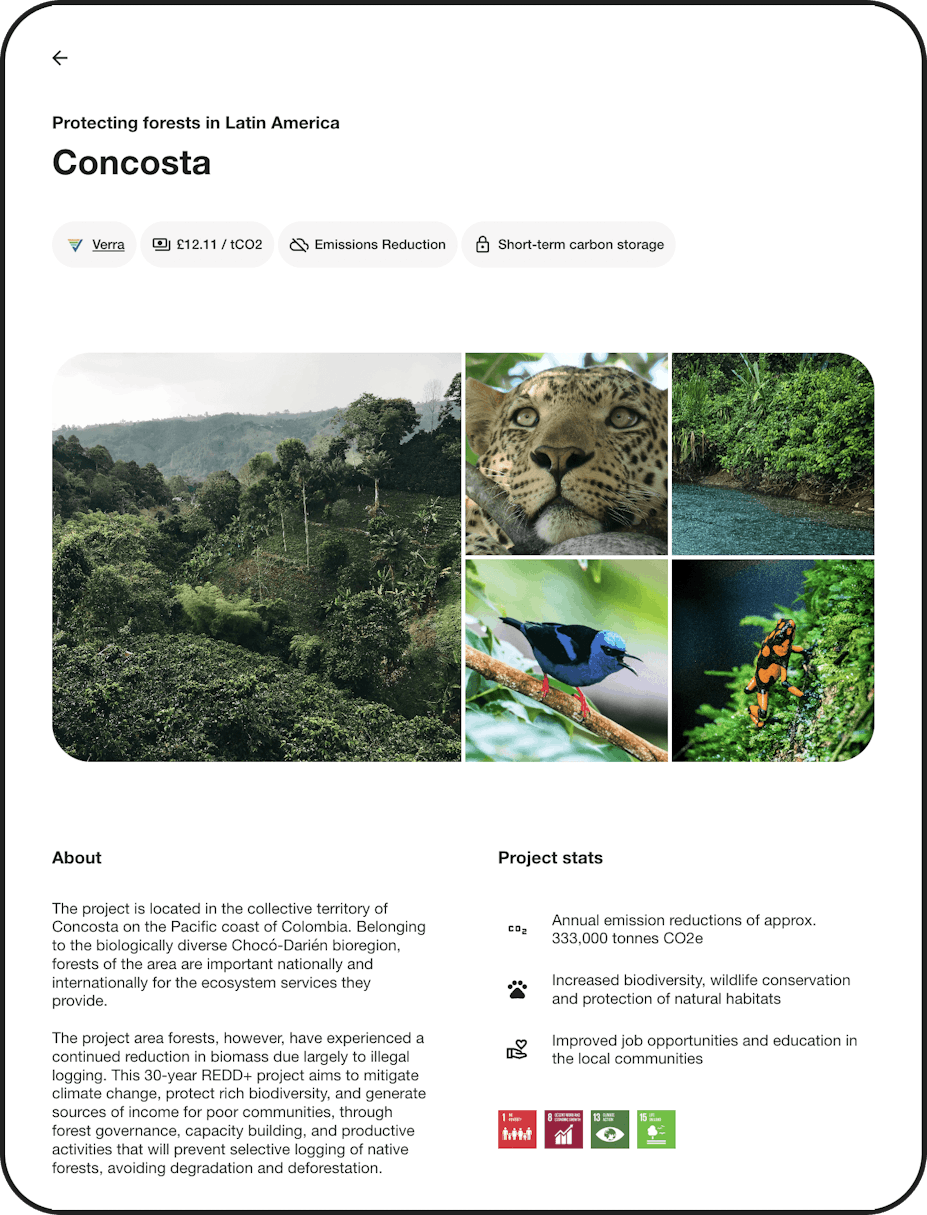 We've done the work of finding out which SDGs the Concosta project is contributing to – and in fact this project is specifically designed to address the kind of interconnected issues that the SDGs advocate for. The project has three key objectives:
Mitigate climate change by reducing deforestation and forest degradation
Contribute to biodiversity conservation
Foster the sustainable development of local communities.
The project exists to reduce carbon emissions, protecting a vital store of carbon in the forest's trees from being released into the atmosphere. But, at the same time it has also been designed to 'enhance and maintain ecosystems and the livelihood of local communities', including:
Creating long-term job opportunities – illegal logging was the primary source of income for the communities living within the project area, contributing to deforestation. The project aims to create alternative sources of income e.g pest management training programme, establishment of new crops, development of new processing plants. The overall aim is for the community to take over the project activities at the end of the crediting period.
Promoting sustainable fishing – fishing is the secondary source of income in the project area, but practices before the project were contributing to overfishing. As part of the project the local community is being trained on sustainable fishing techniques, aiming to increase their yield whilst protecting marine life.
Protecting local wildlife – the Concosta forest is a rich area for biodiversity, with the forest and mangrove population offering habitats to several endangered species. By protecting and enhancing the forest, the project also projects this biodiversity.
A benefit sharing mechanism has been put in place to ensure members of the local community share in the benefits from the project (i.e. money made from the sale of carbon credits) – this was developed in collaboration with the community.
Project income is also invested in community benefit activities e.g. school improvements, investments in electrification, construction of health facilties.
Through these elements, and many others, the project is directly contributing to 4 of the Sustainable Development Goals: 1. No Poverty, 2. Decent Work and Economic Growth, 13. Climate Action, 15. Life on Land.

We're also helping companies to safely communicate how their carbon offsetting is contributing to Sustainable Development Goals, with the option for companies to include this information on their Lune sustainability page.
Here's what that looks like on the Sustainability Page for GoCardless, an online payment processing company who recently offset their 2021 company carbon emissions with Lune: